May 16, 2014 —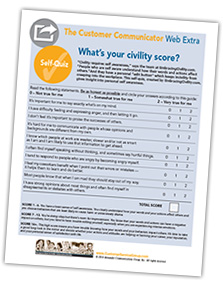 Rudeness and incivility are everywhere these days, and can affect customer service reps as well as customers.
But we don't have to give it free reign.
Use the month of May, which is International Civility Awareness Month, as a time to identify and eliminate incivility from your customer service operations and customer conversations.
Share these four tips from The Customer Communicator with your service team this month:
Pay attention, focus, and listen. That's the first step to polite, gracious conversation.
Greet and acknowledge every customer pleasantly and professionally, no matter how you feel.
Speak with kindness and keep your language free of any hint of condescension, ridicule, or gossip.
Respect the time, space, and differences of others especially those of customers and coworkers.
The May issue of The Customer Communicator, the training and motivation publication for service professionals, includes additional ideas for increasing civility in the workplace along with a civility self-quiz. Subscribe Today.