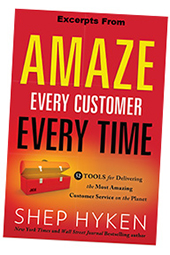 June 16, 2014 —
In "Amaze Every Customer Every Time," author Shep Hyken provides managers with tools for delivering "the most amazing customer service on the planet."
But Hyken was quick to tell readers of The Customer Communicator newsletter that frontline service reps have an equally important role to play in amazing customers and building long-lasting relationships.
Hyken suggests eight steps that reps can take. Step number two is "Treat every customer the way they want to be treated."
Many customer service reps use of the Golden Rule when dealing with customers: "Treat every customer as you would like to be treated."
But Hyken suggests that reps upgrade that to the Platinum Rule: "Treat customers as they want to be treated."
The difference involves a higher level of attentiveness to the customer's needs. Not every customer is going to want to chat or be sociable, for instance. They just want to get their issue taken care of. Some might be open to suggestions and others might not. The rep's job is to listen carefully, observe the signs, and respond in a way that corresponds with the customer's needs and personality.
The June issue of The Customer Communicator includes additional steps to help reps and managers amaze customers. Subscribe Today.