June 26, 2014 —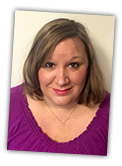 To build true rapport with customers, Melissa Corra a live- chat rep for Web.com, goes beyond the typical techniques.
Corra was recognized for her work with a Customer Communicator Frontline Spotlight award.
"Most frontline reps are familiar with the techniques of mirroring and matching to build rapport," says Customer Communicator editor Bill Keenan. "People often feel most comfortable with those who are like them, so it can be helpful to synchronize with the customer on the phone in terms of matching or mirroring their volume, tone, and rate of speech as much as possible."
Corra takes this a step further. Because she communicates with customers via live-chat she also mirrors the key words, phrases, and writing style used by the customer.
It takes a skillful hand, but the result is very natural. As her supervisor says, "One minute she can seem like she is a Southern belle, and the next minute she is a California girl."
To nominate a frontline rep for a Customer Communicator Frontline Spotlight award, click here