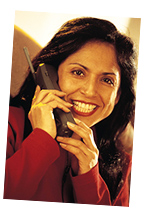 September 4, 2014 —
The first week in September is also known as International Enthusiasm Week, a time to focus on the importance of enthusiasm in building strong relationships with customers and coworkers.
But sometimes it can be draining to maintain a high-level of enthusiasm throughout the workday, particularly if that work is stressful or involves multi-tasking. Three approaches can help:
1. Encourage frontline staff to practice positive behavior. Smiling, moving around more, and using more expressive body language are key components of enthusiasm. Encourage your staff to use these techniques when they are feeling less- than-enthusiastic in order to keep their spirits up and convey a positive attitude.
2. Celebrate successes and bring fun into the workplace. Simple celebrations such as birthdays and work milestones, and major celebrations such as Customer Service Week can reinvigorate people and move the enthusiasm meter higher.
3. Keep training. Honing service skills and learning new ones will keep the job fresh, which naturally adds to the enthusiasm of frontline staff.
Additional tips for managers and their frontline staff on staying enthustiastic throughout the day appear in the September issue of The Customer Communicator newsletter. Subscribe Today.