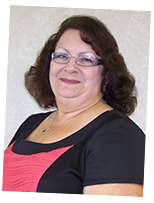 October 30, 2014 —
As an account manager for St. John Insurance, Teresa Sheppard, provides award-winning service.
She recently had clients who lost everything they owned to a devastating fire. Sheppard went out personally to view the damage and offer moral support. Then she helped them through every step of the claims process.
The message for all service providers, says Sheppard, is that "Sometimes people just need to feel that you are there for them, that you hear them."
And she continues, "It is such a wonderful feeling to be able to help put people's lives back together in the face of tragedy."
Sheppard's serve-others attitude was an important factor in her winning a Frontline Spotlight Award from The Customer Communicator newsletter.
Six times a year, The Customer Communicator honors a frontline service provider who sets a shining example of service excellence.
Click here to learn the stories of recent winners.
Click here to nominate a frontline service provider for recognition.