Answers from frontline reps —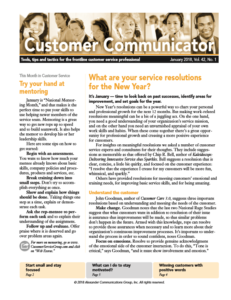 There are a number of things reps should consider resolving to do, including:
Look at everything through the lens of the customer — By doing this not only can you determine what your company does correctly and effortlessly, you can also discover and potentially assist in repairing pain points and frustrations for your customers, thus creating more streamlined, customer-friendly processes.
Communicate up more frequently — Make sure your bosses are aware of the important things affecting your goals and your accomplishments. If you don't tell them, how can they know? Additionally, by communicating up more frequently, you create opportunities to discover what goals are important to your bosses. This gives you the possibility to synchronize your goals with theirs. By working toward those common goals, you can gain a clear view of the bigger picture and affect positive change.
Watch a TED Talk every day — Found at www.ted.com, these talks are freely available on the internet and often wholly insightful. Ranging from three to twenty minutes, it's easy to schedule these brilliant nuggets of wisdom and insight into your day.
Take better care of yourself — What this means to me is getting more sleep, eating healthier, accentuating the positive, welcoming feedback, remembering to breathe, and taking things less personally. To illustrate this goal, I encourage you to think of your personal universe as a shirt button. The four holes of the button represent self, family, career, and future. If you only sew one of the four holes, eventually you will lose the whole button due to poor, badly reinforced stitchery. That is why it is so important to weave thread through each of the four holes; however, always start with self. If you condition yourself to take care of others before addressing your needs and often feel worn out, tired, and a bit frustrated, try thinking about what you can realistically contribute to a situation without leaving another part of your life lacking attention. I promise you will experience greater joy and satisfaction in the work that you do as well as a balanced sense of accomplishment in your personal and professional worlds.
— Megann Withers, Navy Federal Credit Union
The New Year's resolution all of us should make is to go the extra mile!
In any industry characterized by a highly competitive marketplace with little apparent product differentiation, the quality of customer service may be what tips the scale in favor of your company vs. your competitor. If customers know they can rely on you to provide outstanding service on a consistent basis, they are more likely to want to do business with you. Every time you answer the phone you have a chance to make a favorable impression.
Effective customer service reps are thoroughly familiar with their own areas of responsibility, but also understand the entire process flow. Who's involved in generating the work that comes to your desk? Where does it go after it leaves you? It's important to establish relationships with these touchpoints so you can contact the right people when dealing with a situation you can't resolve yourself.
Follow these additional steps to go the extra mile:
Explain to the customer what you're doing to address their concern. If you aren't going to be able to get an immediate answer, be honest about it.
Set the customer's expectations about how long it might take to get the information you need from another person.
Make it clear that you've engaged the appropriate resources and be specific about who will get back to them if not you. This reinforces the message that their issue is important and is being taken seriously, and that you have assumed responsibility for seeing it through.
Follow up as promised. Customers who have been "wowed" by their experience will spread the word.
— Kate Frazier, Ball Horticultural Company
What to do, what to do … make resolutions or not? Perhaps not grand resolutions for the New Year, but smaller, more obtainable goals … and maybe then there is a larger hope for the entire year!
These concepts are applicable in your personal life and your work life. The New Year is a great time to take a deep breath; consider it a fresh start to make positive change or changes. But know yourself: Will you get discouraged easily if there is a day that doesn't "go well"? Then perhaps break the day down into a.m. and p.m.
It's important for everyone to resolve to improve their basic skills, but you may not be able to do it all at once. Be realistic. Take small steps, if that's what you need. Work on one skill at a time, and don't try to have a perfect customer service experience with each call. Try working instead on improving one skill per day or week, month or year, until it becomes second nature, whether it's to ask the next question, to really hear what is being said, or to enunciate clearly, even if it is a matter of saying "yes" instead of "yeah."
If your basic skills are strong, the rest is so much easier. Small successes lead to more smiles on your face, which in turn lead to better/easier interactions with customers.
If you're one that needs to say, "I did really well with that call," out loud, then say it. If you're one to keep a diary, keep writing. And maybe some days will have more successes than others, but count all of those successes.
All of us need to work on customer service skills to ensure that they are maintained and improve. Obtainable goals or resolutions at work and in your personal life are great things to look forward to in the New Year!
— Angela Twohig, The Chronicle Herald
My first resolution would be to try to have my inbox register zero unread messages. This would help me to prioritize my workload for the day as well as creating a task list to let me see what issues need to be dealt with in both urgent and non-urgent matters. It would also allow me to be able to focus on what's most important right now, and not feel overwhelmed by an inbox full of waiting messages. And since I would be making a task list, this would allow me to see the proof of what I had been able to accomplish for the day and to allow me to make adjustments should they be needed.
My second resolution would be to curtail the use of computers or other devices in meetings unless absolutely necessary. Don't get me wrong. Certainly there are times when having a computer open during a meeting is necessary. However, that's usually the exception to the rule. In my opinion, if you are able to look at a laptop or smartphone during the course of a meeting, then you probably really don't need to be in the meeting in the first place. If you are there, then you should focus, and that would allow you to be more productive, and hopefully get things done and resolve the meeting in a timely manner.
My third and final resolution would be to spend the time to make more phone calls. Society has gotten away from interaction via the phone, since it usually seems faster to shoot someone an e-mail. However, it can be better at times to pick up the phone and talk to the person, especially since there are times you might have to send several e-mails to completely resolve an issue. And if you had called the person instead, you could most likely have resolved the issue in one conversation.
— Jo Sprowl, SKF USA Inc.