Answers from frontline reps —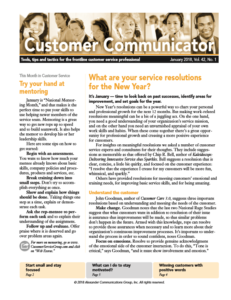 I am human, and what humans crave is positive recognition. It gives us a sense of pride, and I enjoy that emotion. That is what I enjoy most about Customer Care — that genuine "thank you" from a customer, that "really good resolution, Angela" from a manager, especially when I've worked hard to get to the resolution.
That is why I work on basic skills daily, why with each call, I smile even when I really don't want to. It's why, when I am on the receiving end of customer care, I try my best to have a good experience, for both of us. It's that sense of pride I have in myself for a job well done and a feeling of well-being. Good customer care gives me that much more often than not.
— Angela Twohig, The Chronicle Herald
I enjoy having contact with such a diverse group of people, as I deal both with phone customers, and strictly email customers. And I like the variety. While we do the same thing all day, every day, no customer contact, be it a call or email, is ever the same. I enjoy being able to anticipate a customer's needs and hopefully having resolutions available for any problems that might arise before they are needed. I also enjoy being able to recognize and meet the recurring needs of my regular customers as well as those of the one time customer, who we should never forget, always has the potential to evolve into a repeat customer. I also really enjoy the person to person contact as well as the fact that I get to build a lasting relationship with my set customers.
I even enjoy turning the occasionally grumpy caller into a happy, satisfied customer at the end of the call, either by resolving his or her issue or sometimes just by simply listening and letting them voice their concerns.
Customer service isn't a career for everyone. However, for those of us that truly do enjoy it, it can be a very satisfying career choice.
— Jo Sprowl, SKF USA Inc.
One of the things that I enjoy most about working in customer service is influencing my external and internal customers with my positive outlook. When I can make someone's day, it makes my day.
I love using my critical thinking skills to solve a customer concern or suggest improvements to an internal process brought to my attention by a customer. Sometimes it's not feasible to correct an issue due to specific aspects of the unique situation. In those instances, project an attitude of concern and hope the customer knows that, even though you weren't able to resolve the matter, you genuinely regard him or her as an individual deserving of respect.
By infusing energy and enthusiasm into the call, the customer could smile and effectively pay it forward by affecting someone else's life in a positive way. Allowing your personality and charisma to shine on calls can invigorate you with positivity.
— Megann Wither, Navy Federal Credit Union
Although the frenetic pace of a call center environment isn't for everyone, it does have its rewards. These are some of the things I enjoy most about working in customer service:
Getting to know individual customers. Since I often talk to the same people when they call our 800 line, I've established good rapport with many of them. To me there is no greater compliment than to have someone ask for me by name. Once in a while I get to meet a customer in person if they happen to visit our headquarters. There's an instant connection between us.
Talking to people throughout the U.S. and Canada. It's like being able to travel without jet lag or lost luggage. I love hearing regional accents and getting real-time local news and weather reports from all over North America. Occasionally a customer will want to chat for a few extra minutes at the beginning or end of a call. I've heard a lot of great stories, especially from "old-timers" who've done business with us for many years.
Being challenged. When my phone rings, I have to be ready to deal with any kind of issue that's presented. Often that requires collaboration with multiple resources. I'm fortunate to have ready access to coworkers who are experts in their fields, so I'm able to get needed information quickly. In the course of helping one customer, I may learn something that will benefit another.
Representing my employer. In our industry we've built a reputation for outstanding customer service. A customer's first impression is greatly influenced by the attitude of the agent who answers the phone. If my tone is friendly and helpful, the caller is more likely to feel that doing business with us will be a positive experience. The company's image is reflected in my voice.
— Kate Frazier, Ball Horticultural Company