Answers from frontline reps —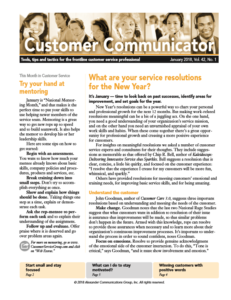 Hmmmmm … I would say the most valuable tool that you have in your toolbox is your ability to listen and actually hear what a customer is saying. The technical "stuff" can be learned and corrected, but the experience the customer has cannot be erased and then corrected.
If you hear what they are saying and do your best to help the customer, then you are ahead of the game. Use your resources, your own experience with customer care, your hearing. Also use those around you that you notice are doing well — not just with the technical end of the work, but with their customer care skills. Are they calm during and after a call, is their tone of voice friendly and not rude with their customers? Take your lead from those representatives.
Also, be open to suggestions, and don't be offended when someone makes a suggestion, such as, "Your wording should be clearer to your customer." Your response should be along the lines of "Thanks for that. Is there anything that you could suggest?"
Ask lots of good questions, make notes. Give yourself time. Set personal goals for where you want to be and in what time frame, and ask supervisors/team managers for goals and feedback. Most supervisors/team managers will be more than happy to work with you if you show initiative in learning, a willingness to listen, and a desire to do a good job.
— Angela Twohig, The Chronicle Herald
Many people believe that you can "fake it until you make it," but I offer a different suggestion. In my organization, the Quality Service and Training departments partner to provide support to new hires in the classroom. Upon a recent visit, I mentioned that instead of the "fake it until you make it" approach, try the "fake it until you become it" approach. By practicing habits of excellence while performing your daily job duties, you might find the habits that you have struggled with become commonplace behaviors.
For example, if you make yourself smile before answering any phone call or interacting with any customer, you might find that later you've conditioned yourself to smile automatically before engaging in those interactions.
— Megann Wither, Navy Federal Credit Union
Ball Seed has built a reputation for having the best customer service in the horticulture industry. The advice I would give a new team member is to handle every call as if your job depends on that customer's satisfaction, because it does!
"Adequate" effort isn't enough to differentiate you from your competition. Always aim for "extraordinary." Whether the call is routine or more complicated, you have an opportunity to make a positive impression. The next time the customer needs to make a business decision, they're more likely to think of you first.
— Kate Frazier, Ball Horticultural Company
I would advise new customer service reps that good customer service is more important than ever.
All of the online review forums, as well as the Web sites that businesses have available for their current and past customers, could potentially have hundreds of ratings, comments and results available for potential customers to view as well as weigh in on.
I would advise reps that today, be it right or wrong, the one exception that falls through the cracks and upsets the customer can become the documented example that thousands of people read and consider prior to choosing to do, or not to do, business with our company.
I would stress that we now have to be looking for new ways to continually raise the bar and provide experiences that make customers proud of their decision to do business with us. Hopefully, this will then compel customers to tell others about us.
Also, I would advise reps that they should think for a moment about how they behave as a customer, and hopefully they will take what they learn as a customer service rep into that business relationship.
Finally, always listen to a customer's words, and don't be afraid to ask questions if you aren't clear on the situation. Always take responsibility for resolving the issue for the customer.
— Jo Sprowl, SKF USA Inc.