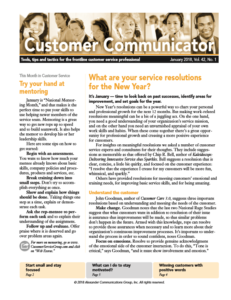 Answers from frontline reps —
Sometimes the hardest part of dealing with customers can be the customers themselves. No matter what industry you work in, sooner or later, you are going to have to deal with a furious, irate, or unruly customer.
However, there are several ways to smooth over a situation in a way that works for you, and most importantly, works for the customer. This may simply mean satisfying the customer with the attitude of "the customer is always right," being adamant about your position, or simply finding a compromise that results in a satisfying resolution.
My most recent difficult customer was one that I inherited. I received a call from a customer that had gotten my name and number from an e-mail from another CSR who no longer works in our department. This customer had placed an order, and it got stuck in limbo due to a system glitch. This customer called in very irate and upset, and rightly so, at least for the upset portion. I listened to what he had to say, and I told him that I would investigate to see what happened and see what I could do to help resolve his issue to his satisfaction. I also apologized for his inconvenience, and I was sincere in my apology.
In the end, customers just want to know that they are being listened to and better yet, that they are actually being heard.
When I found out what had happened, I called the customer back and was honest and leveled with the customer. While he was still upset, and rightly so, he was much calmer, and I was able to offer him a solution. I located the part in our industrial division's warehouse and was able to do a VIP order for him, and I even sent it out at no charge to the customer.
He was satisfied with the resolution when we were finished and we were able to end our interaction on a positive note.
— Jo Sprowl, SKF USA Inc.
Most of us probably tend to think of a difficult customer as one who is upset, rude or downright hostile. Customers with unreasonable demands can also raise our blood pressure. Where I work, there is another type of customer who's difficult in a totally different way: the one who doesn't know what they want.
Our Call Center agents are highly knowledgeable about the green industry we serve. Beyond the expected order entry and troubleshooting skills, we have to be prepared to act as advisors. And some of our customers may literally be transitioning from "I like to garden in my backyard" to "I think I want to open a greenhouse."
These folks call for a lot of energy and patience from the agent, who must anticipate their needs and be ready with answers to questions they didn't even know they should ask. It's not uncommon for one such phone call to last one or two hours without a break. Though draining, these interactions can be highly rewarding as well, because you've earned that customer's loyalty and respect.
— Kate Frazier, Ball Horticultural Company
I recognized that I was going to have to be on my toes when a call was transferred to me and after my greeting, the gentleman said, "I wanted to speak to a man."
My response: "Well you're speaking with Angela, and how can I help you today?" The conversation went everywhere, and Mr. MacDonald was able to use most of my hooks ("You people" is a huge one for me!). I used deep breathing, his name, value statements about our product, and more. I used tools that I use with every call, however, I focused on my tone and reactions in more detail.
I made very clear, unemotional notes on the account and in my personal file because I was finding the call difficult, and I didn't want my anxiety to get the customer more wound! After the call ended, which they always do, I treated myself to special drink (Non Alcoholic!) and congratulated myself on my success with the call.
— Angela Twohig, The Chronicle Herald
In my mind, difficult customers are an opportunity to display our best efforts to resolve customer concerns and improve our business practices. As a representative, I rise to the challenge in the following ways:
Be present and engaged — Before you pick up the phone or interact with a customer, it's important to remind yourself to be attentive to the interaction. Customers are the reason your company is still in business. Listen to your customers. Devote all your attention to the customer with whom you're interacting.
Take time to acknowledge their concerns — When a customer is finished venting, which sometimes is all that is needed, use reflective language to paraphrase and ensure that you heard and understood the needs expressed.
Focus on the solution and what you CAN do — Instead of using trigger words like "unfortunately" and "can't" try to find a way to make it positive. Instead of "Unfortunately, I can't have that card out to you today" try phrasing like, "I can have that card in the mail for you first thing tomorrow morning."
Don't take it personally — Although this is easier said than done, try to not take the customer's complaints personally. Understand, and feel honored, that the customer called you because you are the key to resolving the customer's concern. Remain calm and balanced while you assist to the highest degree of your capability.
— Megann Wither, Navy Federal Credit Union