Answers from frontline reps —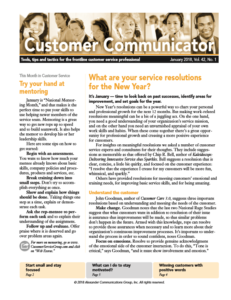 I try to create a flowing conversation to get information to take care of the customer and personalize the interaction. It includes basic courtesies and responses to questions or comments. As always, solid listening skills and empathy will enhance efforts to successfully communicate on that human level.
Taking the time to access historical contact information helps to create a special connection and shows you are fully interested. Acknowledge their choices and concerns. When a customer feels validated and cared about, it can create a path to accept a solution or make a decision. I want my customer to feel that my response is specifically designed to their needs.
— Piper Grant, North Virginia Electric Cooperative
We all know how important first impressions can be. Business deals, as well as personal interactions have been made or broken based on one or both individuals' first impression. However, we continue to make impressions on each other and our customers each and every time that we interact with each other.
If you interact with your customers in person, smile when you greet them, don't just say hello. This makes the customer realize that you are indeed happy to see them, and not just the business that they are going to give you. If you only deal with customers over the phone, you should still smile when talking to them, because as we all know — a smile can be heard.
Always make sure that you show your appreciation to your customers. You want to make sure that your customers know that you care about and appreciate their business. Customers really don't want to be thought of as just numbers, they want to know, and should know, that they matter to you.
Whenever you are corresponding with your customers, you should always review any letters or e-mails that you might send to them. You want to make sure that the communications are warm and welcoming, and that it invites further easy communication should it be needed. When you are corresponding with a customer, don't just answer their direct questions, but give them any further information that they may find useful. This will show the customer that you are upfront and willing to go the extra mile for them. It can help to make a great lasting first impression as well.
It really can be the little things that make or break any relationship, and I believe that this is never more evident than in a business relationship, when it is so easy sometimes to just walk across the street and get the same thing done. You have to stand out from the very start…because you may never get that same chance again.
— Jo Sprowl, SKF USA Inc.
Every time we speak with a customer, we have an opportunity to make that individual feel like he or she is the only person that matters at that moment. We often do this by using the customer's name, extending a genuine appreciation for their loyalty to your company, or a word of congratulations for an important life event.
You will notice others in your organization that appear to be doing this well, and you should observe what they do and imitate their energies. But be aware that not every attempt to personalize interactions will be successful. It's okay and understandable. Mistakes are how we learn how to hone our craft. Sometimes, you won't flex well to the customer's style or you'll make a comment that was heard differently than intended. Hopefully, these instances will be few and far between. But for me it is all about presence.
Marianne Williamson wrote, "As we let our light shine, we unconsciously give other people permission to do the same. As we are liberated from our own fear, our presence actually liberates others." When our goals and mindsets align with the goals and mindsets of our organizations, we approach the work as a representative who is free to allow his or her personal style to shine through.
This may feel awkward at first but if you stick with it, the rewards are beneficial to both you and the customer. And the customer and representative will feel a stronger connection to the business. Both parties come to an appreciation that, by letting go and allowing our own lights to shine, we can achieve stronger bonds and build greater rapport through being ourselves.
— Megann Wither, Navy Federal Credit Union
To the customer you are the company. A good first impression starts a positive relationship with your customers. On the other hand, a poor first impression can sometimes end the relationship right there. And when you factor in word of mouth and how many other people the customer may talk to about a bad experience with your company, you can see how important first impressions can be.
So, always make eye contact with the customer. Eye contact and acknowledgement are simple gestures letting the customer know you know they are there. And smile, smile, smile if you are face to face. Your greeting should tell the customer, "I am glad you're here!"
And if it's in a call center: the customer can hear if you have a smile on your face.
Use greetings such as:
"Good morning! How can I Help you today?"
"Hello, how is your day going so far? What can I help you with today?"
"Good afternoon! What can we do for you today?"
A friendly greeting immediately disarms the person and sets them at ease. It sets the tone for the rest of the interaction. No matter what the customer's emotional state, this will make things better. This is probably the single most important point for anyone working in any position where they greet customers.
Finally, end your interaction with a sincere smile, and a thank you with their name behind it. For example, "Thank you Bill! I really appreciate the opportunity to help you today!" That way, the customer leaves the interaction remembering how you made them feel.
— Rachel Wilty, UnityPoint Clinic