January 11, 2017 —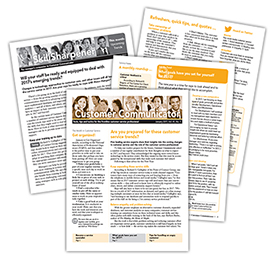 Several of the experts who contributed to the Customer Communicator's annual outlook article noted the ongoing march toward more technology in the service center. However, they remind readers that this must be accompanied by the interpersonal skills that make each customer feel valued.
With the greater emphasis on alternative customer channels, expanded databases, and customer analytics at many companies, customer service training can sometimes focus on these technical issues and skills, and this often pushes soft-skills training to the back of the line, says Barbara Burke, author of The Monkey, the Moon, & Maybe.
But the truth is that customer satisfaction is still based largely on how much — or how little — the service rep makes the customer feel valued.
"So while the customer service rep of the future not only has to get the job done, fix the problem so that it stays fixed, control the call, navigate toward a solution, offer customers options, and educate the customer on how to avoid similar problems in the future — reps also have to make sure that they connect with the customer on an emotional level and make the customer feel valued," Burke says.
Today's checklist …
Read the full annual outlook article. It's online now.
Learn more about Barbara Burke's wonderful books for frontline reps.
Subscribe to Customer Communicator newsletter so that you and your frontline staff can receive monthly ideas, information, and inspiration on improving the service experience each month.