March 23, 2017 —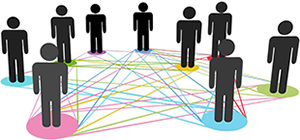 Reps often have to rely on other departments for support in serving customers. To get that support, they must build strong connections.
In the March issue of Customer Communicator newsletter, a group of frontline reps offer peer advice on how to build the connections to best serve customers.
Megann Wither of Navy Federal Credit Union says it's all about attitude, "If you approach people from a place of learning they are more receptive to helping you. People like to convey what they know to others, so if you approach someone as a guru, they will more than likely feel pride in assisting you."
For Rachel Dillion of Assurant Specialty Property a personal touch goes a long way in gaining support from other departments. She notes, "When possible, try to communicate in other ways besides instant messaging and email. It's easy to forget that the department you are working with is filled with people just like you trying to do their job. Try to put a face to a name and build that connection. They have other responsibilities as well, so be very clear with your request and provide all the pertinent information they may need in order to help you more efficiently."
Peer advice like this is an important aspect of the monthly Customer Communicator newsletter.
Today's checklist …
Schedule regular meetings and social gatherings with key departments to build relationships and understanding.
Use technology to aid in communication. Internal instant messaging can be very helpful to reps seeking input from other departments.
Subscribe to Customer Communicator newsletter so that you and your frontline staff can receive monthly ideas, information, and inspiration on improving the service experience each month.