April 6, 2017 —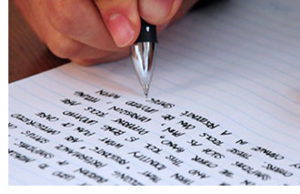 While customer service has long been seen as a phone-based medium, that is not entirely true today.
More and more, customer interactions involve a mix of email, social media, online chat, and even the occasional typed communications, and hand-written thank-you notes.
All of these require care and skill in making sure that the appropriate message gets across with the correct language and tone.
In the April issue of Customer Communicator newsletter, Editor Bill Keenan shares eight essentials that frontline reps should keep in mind when communicating in writing.
Most important, he says, is to remember that, "whatever the medium, your writing should maintain a high level of professionalism and respect for the customer."
A large part of that he says is to, "choose your words carefully. Use language that the customer is likely to understand, but keep a business-like and professional tone."
This applies even when communicating with customers via social media. The language of social media is full of abbreviations, levity, clichés, and emoticons, but try to avoid that as much as possible, he advises. "You want to convey that you are friendly and caring, but you still represent your company or brand and you want to be as professional as possible. Also, because written communication creates a more permanent record, make sure that you are using correct grammar, spelling, punctuation, sentence structure, and word choice throughout," he says.
All eight tips appear in the April issue of Customer Communicator newsletter.
Today's checklist …
Give your staff time. When responding to customers in writing — at least in the beginning — reps need to slow down and take the time to both read the customer communication carefully and to compose an effective response.
Create standard response templates. This activity can often be undertaken by a small group of reps.
Subscribe to Customer Communicator newsletter so that you and your frontline staff can receive monthly ideas, information, and inspiration on improving the service experience each month.