July 27, 2017 —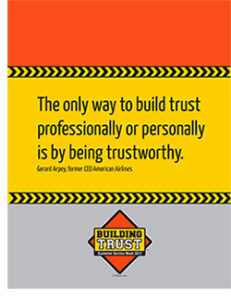 "There are a lot of good things that can happen when trust is a part of the workplace culture," says Nan S. Russell, a consultant and author of Trust, Inc. and It's Not About Time.
"Things can happen faster, more smoothly, more easily, and without conflict — and you get better results, including better service for customers."
In the July issue of Customer Communicator newsletter, Russell advises reps to avoid the following six trust-busters when working with customers and coworkers.
Trust-buster 1. You over-promise and under-deliver. "If you don't take your words seriously, why would someone trust them?" Russell asks.
Trust-buster 2. You operate as if others can't be trusted. Whether it's via your language or communication approach, you broadcast your distrust of others.
Trust-buster 3. You avoid personal accountability. Blaming others, failing to apologize, and offering excuses aren't trust-building behaviors. Being accountable is.
Trust-buster 4. You take credit without acknowledging others' contributions. "You may think you did it alone, worked the hardest, or came up with the idea, but others influenced, helped, and supported you," says Russell. "Not recognizing that reduces trust."
Trust-buster 5. You tell half-truths and use spin, avoidance, and weasel words. "Communications not grounded in integrity, forthrightness, and honesty impact trust," Russell says.
Trust-buster 6. You use email or text messages, to deliver difficult messages. Hiding behind one-way communication or relinquishing involvement is always a trust-buster.
Today's checklist …
Reinforce the importance of trust by celebrating Customer Service Week (October 2-6). This year's theme is "Building Trust." Learn more at the CSWeek.com website.
Share. At your next team meeting or group huddle focus on the importance of trust and share the six trust-busters.
Subscribe to Customer Communicator so that you and your frontline staff can receive monthly ideas, information, and inspiration on improving the service experience each month.