January 18, 2018 —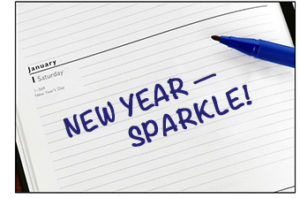 It's January 18 and many of us have already abandoned our New Year's resolutions. But never fear, it's not too late to inspire your service team to rethink their resolutions with these suggestions from the pages of Customer Communicator newsletter.
Chip R. Bell, author of Kaleidoscope: Delivering Innovative Service that Sparkles suggests a resolution that is clear, concise, a little bit quirky, and focused on the customer experience: "I resolve that the experience I create for my customers will be more fun, whimsical, and sparkly."
Renée Evenson, author of the newly released Customer Service Training 101, Third Edition, suggests focusing on communication skills with a resolution to listen well. "The only way you are able to respond appropriately and intelligently is if you fully and completely listen to your customers (and coworkers and managers)," says Evenson. So, resolve to shut out distractions and pay attention to that one person you are communicating with.
Entering the "anti-no" zone is on customer service expert Shep Hyken's list of great resolutions. When you are in the zone, he says, "you stop saying no to people and look for more ways to say 'yes'. "Resolve to be proactive. Think ahead about what you can do to help the customer." But he adds, "that doesn't mean you always have to say 'yes.' Try to come up with a reasonable yes alternative or solution that will make the customer happy."
Today's checklist …
Inspire. Share these fun and meaningful resolutions with your team.
Amplify. Ask team members to share their own work-related resolutions. The most significant resolutions will reflect both individual skills and the mission of your service organization.
Subscribe to Customer Communicator so that you and your frontline staff can receive ideas, information, and inspiration on improving the service experience each month.