March 2, 2018 —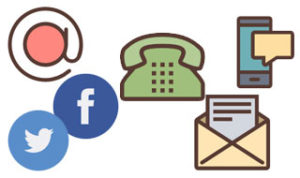 Online channels are playing a larger and larger role in customer service. Not only are customers buying more online, they are taking their service issues online as well, via email, text, web chat, and other online channels, including social media. And customer service reps need to be ready to handle those online interactions.
In the March issue of Customer Communicator newsletter, industry expert Renée Evenson shares online communication strategies with frontline reps.
One of the many important points she makes is that reps must master two very different types of communication skills. The first is "Business Skills," which involve a solid understanding of the organization's products, services, and procedures.
The second is "Conversational Skills," or the ability to inject one's personality into the written word in order to build rapport with the customer.
"In other words, have a little conversation with the customer to establish a rapport — just as you would on the phone or face-to-face," says Evenson. So, for example, if you see that a customer is from a state hit by a severe weather condition, you might ask, "How's the weather been in your part of the state?"
More advice on moving gracefully from phone to online service appears in the March issue of Customer Communicator.
Today's checklist …
Train. It's easy to focus on products, services, and procedures, but don't forget about rapport-building.
Coach. In addition to formal training, managers can also sit with reps and monitor how they handle online interactions. "Sit with them and watch what they are doing and how they are doing it — the language that they are using, the tone they are taking, and how they personalize the interaction," Evenson says. "Then you can provide them with some instant feedback before they hit that send or post button."
Subscribe to Customer Communicator so that you and your frontline staff can receive ideas, information, and inspiration on improving the service experience each month.