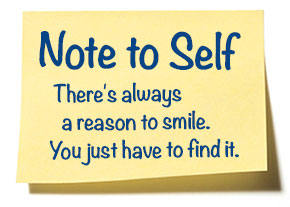 March 15, 2018 —
Is your service staff maintaining a positive attitude despite the negativity that inevitably arises in the workplace?
If not, then keep in mind that March is "Optimism Month," and the perfect time to work on improving those attitudes. Reps, like everyone else, will benefit from guidance and suggestions for keeping a positive attitude throughout the day.
In the March issue of Customer Communicator newsletter, service expert JoAnna Brandi shares four techniques that reps can use to remain positive and upbeat with customers and coworkers.
Today's checklist …
Share. Brandi recommends four techniques for remaining positive throughout the day. Share these at your next team meeting.

Write notes to yourself. Use Post-It notes to remind yourself every day that you want to keep a smile both on your face and in your heart.
Find a supportive coworker. A "positive-thinking buddy," as Brandi puts it, can help you turn a bad day around.
Create a bulletin board. Invite coworkers to provide positive and motivational postings.
Keep a "gratitude journal." Use it to keep track of all of the things that you are grateful for, and on bad days you can use it to inspire yourself.

Subscribe to Customer Communicator newsletter so that you and your frontline staff can receive monthly ideas, information, and inspiration on improving the service experience.