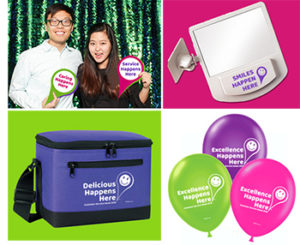 May 30, 2018 —
We are delighted to present the all new 2018 Customer Service Week theme, logo, website, and much, much more.
This year's Customer Service Week theme is Excellence Happens Here™.
It is a wonderful reminder that wherever we provide service — from the call center to the executive suite, from the loading dock to the home office — that's where excellence happens.
The logo is beautifully reproduced on a wide range of decorations, gifts, rewards, and stress-relievers, which were created exclusively for Customer Service Week 2018.
It is also carefully woven through the ready to use Activities, Puzzles, and Printables available at the event website.
If your team makes Excellence Happens Here™, we invite you to celebrate them during Customer Service Week, October 1-5, 2018.
To see the website, products, printables, and more visit: CSWeek.com.
If there are others on your team who will be involved in planning for the week, now is the time to invite them to sign up for the CSW Bulletin. Or to follow us on Facebook and LinkedIn.