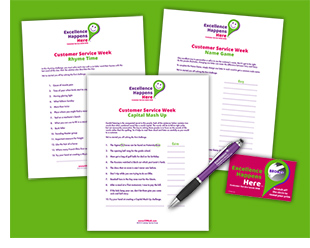 July 18, 2018 —
Pencil and paper puzzles are always popular during Customer Service Week. They're a great way to relax, share a smile, and build teamwork.
And if your team can't get away from the phones to celebrate, they can still enjoy puzzles right at their desks.
We've just added three new puzzles to the CSWeek.com website. There are puzzles that highlight consistency, attention to detail, listening, and just plain fun.
In total, there are 25 puzzles to choose from. Some are free to all, others are exclusively for CSWeek.com customers, all are fun and challenging.
You may see the full list of puzzles at CSWeek.com. And while you're there, be sure to click the Shop button to view all of the decorations, rewards, gifts, and stress relievers that we have for you this year.
Order your celebration materials today!