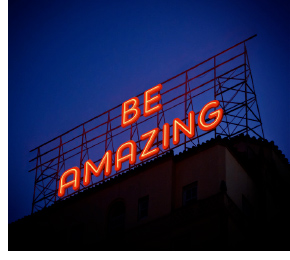 July 19, 2018 —
"Excelling in customer service requires more than just showing up," says Bill Keenan editor of Customer Communicator, the newsletter for frontline reps. "In order to serve customers well, support the service team, and take one's career to the next level, reps need to stand out," he says.
In the July issue of Customer Communicator, Keenan talks to five service experts about how reps can stand out with their customers and coworkers.
First up is Shep Hyken, author of Be Amazing Or Go Home, and other books on customer service. Hyken says that really stand-out customer service reps have several amazing habits in common:
The first is that they show up every day, ready to amaze. It isn't just showing up on time. It's being ready to go when you are expected to be on. It's showing up with the right attitude, ready to take on the opportunities the day presents.
Stand out reps are proactive. They don't just answer the customer's question. They make additional suggestions and even product suggestions, when appropriate.
Stand out reps are authentic. "They have a sincere appreciation for their customers and have an interest in their success with the product or service. They also show empathy and care that's genuine, and the customer can feel it," Hyken says.
Today's checklist …
Encourage Empowerment. Hyken suggests that managers can help their reps to stand out by creating a workplace culture that includes and encourages empowerment on the part of reps.
Set Boundaries. In addition to empowering reps to act in the best interest of the customer, Hyken says that managers must set boundaries. "A good manager will show reps where the 'line in the sand' is that should not be crossed," he says.
Subscribe to Customer Communicator newsletter so that you and your frontline staff can receive monthly ideas, information, and inspiration on improving the service experience.