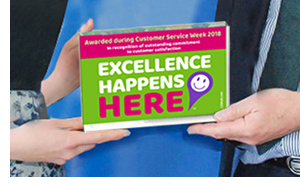 July 25, 2018 —
Recognition is an important part of every Customer Service Week celebration. After all, when people know that their efforts are appreciated, it increases self-esteem, job satisfaction, and customer satisfaction.
These four Customer Service Week activities leave no doubt that these reps are appreciated:
1. Managers honored frontline reps with giant stars and accolades at Horizon Blue Cross and Blue Shield of New Jersey. But the highlight of the presentation came when managers broke into an original song, written to thank reps for all they do each day. Learn more…
2. The team at Cox Health showed that appreciation can be both humorous and heartfelt with their two-part awards program. The Oscars were given by management in categories such as "Dedication to Accuracy" and "Offering Assistance." While the People's Choice Awards were given in categories such as "Dr. Phil" for the person who is not afraid to offer his or her opinion. Learn more…
3. At Orkin, everyone in the company was encouraged to recognize coworkers by sending notes of thanks. To make the process easy, pre-printed cards were created for the event. Learn more…
(Customer Service Week recognition cards are available for download in the Printables section of the website.)
4. And at Runzheimer International, stretch limos whisked reps to a downtown restaurant for a recognition lunch complete with red carpet, guest speakers, and gifts. Learn more…
You'll find details on these and other recognition activities in the Agendas section at CSWeek.com. And while you're there, be sure to click the Shop button to view all of the decorations, rewards, gifts, and stress relievers that we have for you this year.
Order your celebration materials today!