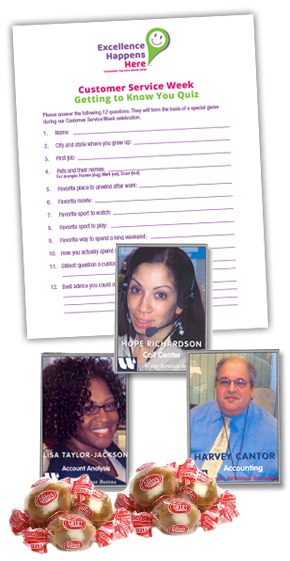 August 8, 2018 —
Customer Service Week provides a wonderful opportunity to break down barriers, build connections, and enhance teamwork.
Here's how:
1. At Gordon Press, team members got to know each other better with the popular Customer Service Week Getting to Know You Quiz. Reps answered 10 questions about themselves. Then each day, two or three quizzes were shared via email. Reps chatted among themselves and tried to match the quiz answers to their coworkers. (The quiz is available for download in the Activities section of the website.)
2. The Philadelphia Water Revenue Bureau took the Getting to Know You Quiz one step further by using the information to create All Star Trading Cards. Each trading card included a photograph of a team member on the front along with their All Star "stats" on the back. Learn more …
3. The emphasis was on building strong connections between two service departments at Black & Decker End User Services. As part of their celebration, the teams created care packages for each other. The team from Maryland sent their coworkers Goetz Caramels and Berger Cookies, two of their local specialties. While the team from Tennessee shared locally-made Pringles chips and pecan pies. Learn more …
4. And at Systems Services of America, the focus was on building connections with other departments during a Ladder Ball competition. This team-building activity saw reps randomly assigned to two-person teams and then asked to invite one person from outside of the department to join them. Learn more …
You'll find details on these and other team-building activities in the Agendas section at CSWeek.com. And while you're there, be sure to click the Shop button to view all of the decorations, rewards, gifts, and stress relievers that we have for you this year.
Order your celebration materials today!