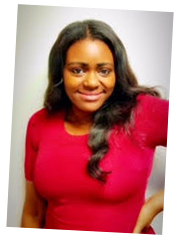 August 16, 2018 —
Briana Church is a transportation solutions representative for Veritiv Corporation, a third-party distribution and logistics company. Her job is to help customers set up shipments, and to make sure that they get delivered on time.
"So if customers come to me with any problems, anything that needs fixing, I am here to fix it," she says.
Church was recognized for her work with a Frontline Spotlight Award in the August issue of Customer Communicator, the newsletter for frontline reps.
Church credits her success in customer service to the five years of experience that she has had on the job. "During that time, my knowledge of the business has grown tremendously," she says. "And then I can pass that knowledge on to my teammates."
She adds that however difficult a situation gets, or however upset the customer is, it's important not to let those things affect you personally. "Just understand that the customer is mad at the situation, not at you," she says. "Just be honest and genuine and let your positive personality shine through."
Today's checklist …
Nominate someone on your team. Do you have an exceptional rep on your team? Someone who deserves attention and recognition? Visit the Customer Service Group website to complete the brief Nomination Form.
Subscribe to Customer Communicator newsletter so that you and your frontline staff can receive monthly ideas, information, and inspiration on improving the service experience.