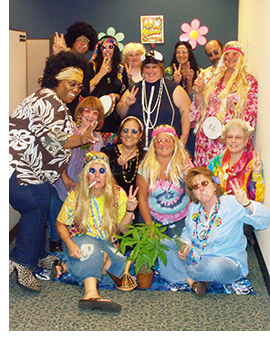 August 20, 2018 —
Theme days are always popular during Customer Service Week. And the possibilities are almost limitless. Just look at these four examples:
1. The week started with a Star Wars theme at CMA CGM. When employees arrived at work, the elevator whisked them skyward to the sounds of a spaceship lifting off. Accompanying them was an actor dressed as Chewbacca, the wookie warrior. The building was filled with space ship decor and the lunchroom was converted to the raucous Star Wars Cantina. Learn more …
2. At Black and Decker End User Services the theme looked to the past. The team celebrated a different decade each day — 1950 through 1990 with appropriate food, games, and dress. Learn more …
3. There was also a different theme each day at The Institute of Internal Auditors where the team enjoyed Sports Day, Color Day, Cozy-Slippers Day, Crazy Hat Day, and Hawaiian Shirt Day. Learn more …
4. And 5LINX Enterprises set aside one day during its celebration as Breast Cancer Awareness Day. October is National Breast Cancer Awareness Month. Everyone wore pink to show their support. Pink cupcakes were delivered to each workstation. And the company's founder made a donation to the American Cancer Society in honor of his staff. Learn more …
You'll find details on these and other theme days in the Agendas section at CSWeek.com. And while you're there, be sure to click the Shop button to view all of the decorations, rewards, gifts, and stress relievers that we have for you this year.
Order your celebration materials today!