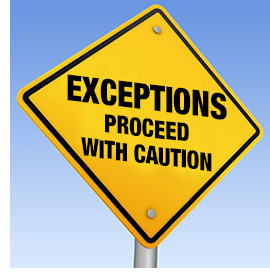 December 13, 2018 —
Customers have high expectations, they are well informed, and they have low tolerance for poor service. And, from time to time they will expect more than you can deliver. Fortunately, it is possible to manage expectations, deliver what you can, and keep customers happy.
In the process, reps may feel the need to make exceptions for customers. That can be tricky according to Naomi Karten, author of Managing Expectations: Working with People Who Want More, Better, Faster, Sooner, NOW!
For example, she says, if a customer comes to you with a request that your company typically would not meet or provide, and in the spirit of above-and-beyond customer service, you make an exception, you've then created a new expectation in that customer for the next time he or she calls.
"When that happens, you can't fault the customer for expecting the same treatment again," Karten says.
So should reps stop being flexible and making exceptions?
No, says Karten. But they should be aware of the potential impact and make sure the customer knows that any exception made on his or her behalf is uncommon. For example, reps might say, "I can do this for you now, but please understand that this may not be possible in the future." Or "I would be happy to make this change today, however, I can only do this one time."
Today's checklist …
Clarify. To avoid confusion, and manage expectations, ensure that everyone on your team is aware of what exceptions may be made and by whom.
Subscribe to Customer Communicator newsletter so that you and your frontline staff can receive monthly ideas, information, and inspiration on improving the service experience.