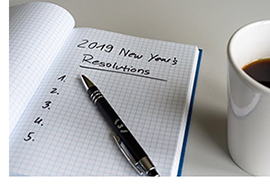 January 10, 2019 —
It's only January 10th, but many people have already broken their New Year's Resolutions. So today, we're sharing some practical resolutions to help your service team focus on making positive change in 2019. These resolutions come to you from Customer Communicator's team of frontline advisors.
Megann says:
I am resolving to look into my time wasters and distractions. My biggest time thief is my computer. When I am talking to coworkers, sometimes I feel like I have to take a second and divide my attention to answer that quick email or chat message. In 2019, I will consider when to say "no" to distracting myself with that email or chat. On the other hand, I will say "yes" to focusing more on coworkers.
Tracy says:
In order to provide better service, I resolve to take time off at least once per quarter. This past year I did not take much leave from work and felt nearly burned out. In September, I visited England and Scotland for two weeks. When I returned, I came back so refreshed with new perspective and renewed energy. Two months later, I'm still fresh at work.
Rachel says:
My service resolution for the new year is to set up more one-on-one time with my peers. In an environment where teams work on their own it can make people feel isolated with the situations they are going through. By spending more time with each of the teams, we can talk through our experiences to see what assistance we can be for one another.
Kathy says:
We've set a team-wide goal. We want to improve both the quality of our customer conversations, and also the quality of the data input into our CRM cases. In our conversations with customers, we will focus on tone of voice, asking appropriate and thoughtful questions, not speaking too fast or rushing the customer, and providing a recap of what we "can" do for the customer.
Today's checklist …
Share. At your next team meeting ask reps to share their own resolutions.
Increase success. For resolutions to be meaningful, they should be specific, measurable, and achievable. And they should support individual or department goals.
Subscribe to Customer Communicator newsletter so that you and your frontline staff can receive monthly ideas, information, and inspiration on improving the service experience.