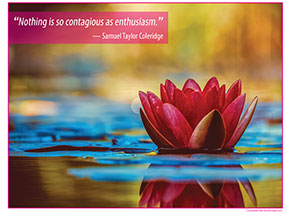 February 7, 2019 —
There's a lot of negativity in the world, from the nightly news to entertainment programs that trade on sarcasm and cynicism. There can also be negativity in the workplace — especially the customer service workplace.
Noted author and trainer JoAnna Brandi has focused on the importance of maintaining a positive attitude for over two decades. With all of the negativity in the world, she says it's no wonder that some of it creeps into reps' contacts with customers.
One solution is to make a conscious decision to eliminate the negative from the work environment. A good place to start is with a quick scan of the work area. "Do you have words of inspiration about vision, about service, or about teamwork and caring? Or do you see negative and sarcastic signs and mottos?" she asks.
Next, says Brandi, "we have to watch our language." Everything from avoiding disparaging comments about customers and coworkers to selecting positive rather than negative words and phrases will make a difference.
Today's checklist …
Conduct an environmental scan. Review the posters, quotes, and cartoons in the service department. Are they spreading the right message?
Create one or more photo walls. Each wall should have a unique theme such as vacations, birthdays, and team events. Invite reps to share photos and fill the department with positive images.
Subscribe to Customer Communicator newsletter so that you and your frontline staff can receive monthly ideas, information, and inspiration on improving the service experience.