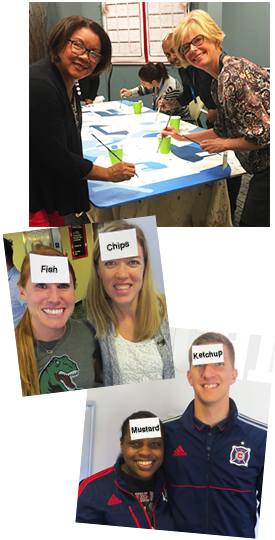 May 15, 2019 —
Every year, teams from all over the world celebrate Customer Service Week: Small groups and large, single location and multi-site, simple and over-the-top. But the people who celebrate all have a few things in common:
4. They get creative. Paint 'n' sip parties, cake decorating contests, and a range of craft projects all provide fun ways to relax and get to know coworkers. For a hands-on creative activity, the team at the Mississauga 3-1-1 Contact Center joined forces to paint a custom-designed mural for the call center.
5. They share a meal. Breakfast, lunch, dinner, and lots of snack breaks highlight most celebrations. Pot-luck lunches and ice cream sundae breaks are especially popular and there are also competitive activities like Bake Offs, and the annual Soup-Off at Orion Food Systems.
6. They get to know each other.Activities that encourage people to mingle and build team cohesion are a must during Customer Service Week. Match up games, baby-photo contests, and ice breakers are all popular. During an "introductions game" at Chicago Fire Soccer Club, "Fish" and "Chips" met up, "Mario" and "Luigi" found each other, and more classic duos got better acquainted.
If you missed activities 1-3, you'll find them online at www.csweek.com/bulletins.php