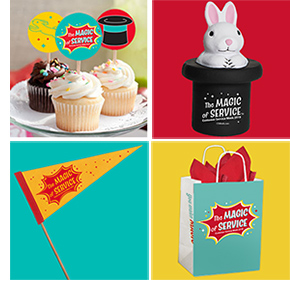 May 29, 2019 —
We are delighted to present the all new 2019 Customer Service Week theme, logo, website, and much, much more.
This year's Customer Service Week theme is The Magic of Service™.
The theme recognizes that good service is magical. It can turn an unhappy customer into a satisfied long term customer. It can turn an occasional customer into a repeat customer. And it can turn any customer into your biggest fan and advocate.
The theme is colorfully illustrated in a teal, red and yellow logo which is imprinted on a wide-range of exclusive decorations, gifts, rewards and more.
If your team makes magic happen for customers, we invite you to celebrate them during Customer Service Week, October 7-11, 2019.
To see the website, products, free gifts, and more visit: CSWeek.com.