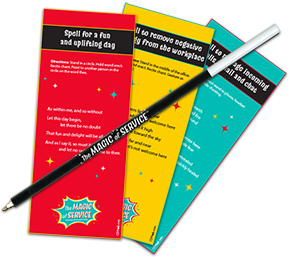 Make your Customer Service Week celebration fun, easy, and engaging with pre-planned activities. Each activity includes detailed instructions, a list of materials, and print-outs if needed. Here are three of our favorites:
To incorporate the Customer Service Week theme, The Magic of Service™, try the "Cast a Spell" activity. You'll gather your team to cast spells to remove negative energy from the service center, and more. But, the real magic in these spells is that they bring team members together and allow them a little time to share their worries, motivations, and goals.
To build camaraderie, we suggest the "Answer the Question" activity. It is sure to have everyone on your team laughing out loud. This activity was adapted from the classic activity book, The Big Book of Team Motivating Games.
And to build skills, try the "How's the Weather?" activity. It will help everyone develop their skills at building rapport.
With 23 activities to choose from, there's something for every day of your celebration. Some activities are free to all, others are exclusively for CSWeek.com customers, all are fun and engaging.
You may see the full list of Activities at CSWeek.com. And while you're there, be sure to click the Shop tab to view all of the decorations, rewards, gifts, and stress relievers that we have for you this year.