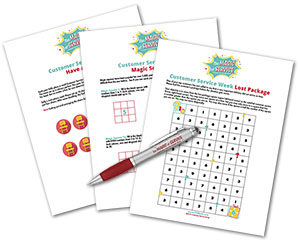 Last year I got a note from a customer who said that her team loves doing our puzzles during Customer Service Week, but that they are "too easy."
Challenge accepted.
This year you'll find new logic puzzles at the CSWeek.com website. There's the devilish Family Affair puzzle, the mind-bending Have a Seat puzzle, and the grueling Something from Nothing puzzle. In this puzzle, a frontline rep is asked to meet a customer's request without having the necessary materials on hand.
You'll also find some of our best puzzles from past years. With 27 puzzles to choose from, there's something for every day of your celebration. Some puzzles are free to all, others are exclusively for CSWeek.com customers, all are fun and pretty darn difficult.
You may see the full list of Puzzles at CSWeek.com. And while you're there, be sure to click the Shop tab to view all of the decorations, rewards, gifts, and stress relievers that we have for you this year.