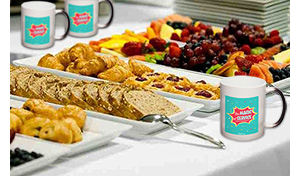 When we asked our customers to tell us about the best part of their Customer Service Week celebrations, they shared a lot of great ideas. Which ones will you try?
Rebecca says that her team's favorite activity brought two departments together. "We include the sales reps in our Minute to Win it Games and this is always very popular since our inside support team (customer service) works with the sales team daily."
An employee breakfast, cooked and served by management, was the highlight of Angie's celebration.
For Alexa's team, the highlight came on Friday. As she explains: "We raffle off gift baskets as final prizes. Reps earned tickets all week for attendance, phone stats, completing daily puzzles, etc. They put their tickets in for the baskets they were interested in. On Friday we pulled names and everyone received a basket."
Puzzles and games are a highlight for many teams. Lea tells us that her team plays bingo every year and it is a "big hit." Bingo cards are available at the CSWeek.com website.
And finally, there's food: ice cream socials, pot luck lunches, gourmet burger bars, and cupcakes ("The toppersare sooo cute!"), are always favorites.
Join these event organizers and order your celebration materials today.