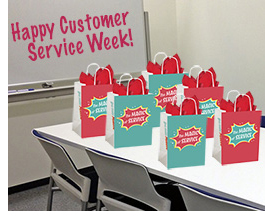 When we asked our customers to tell us about the best part of their Customer Service Week celebrations, they shared a lot of great ideas. Here are five for your celebration:
Melissa hosted a red carpet award ceremony to recognize top performing employees.
Gretchen finally tried a decorating contest, "We've thought about a Chair Decorating Contest, but never tried it. Lots of fun." More on chair decorating is in the Activities section at CSWeek.com.
Walter says his team's favorite was based on a popular TV show. "We had a Family Feud event in which each round consisted of questions about our products as well as funny questions about key management staff."
Senior executives were also the highlight at this celebration. They served as guest speakers at many of the week's events, says Wendell.
For Kimberly, the highlight of the event came on the first day. She tells us, "For our kick off morning, we gave goody bags and had a huge breakfast celebration, but included everyone in our office, not just customer service."
Join these event organizers and order your celebration materials today.