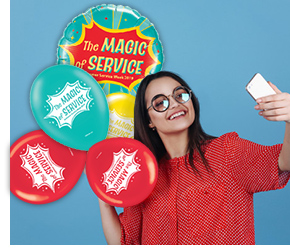 September 9, 2019 —
When we asked our customers to tell us about the best part of their Customer Service Week celebrations, they shared a lot of great ideas. Many people commented on their decorations.
Ramona says that "decorations set the tone for fun." She decorates on Sunday afternoon so that everything is perfect on Monday morning. Her decorations include a Foil Balloon on a string floating above each chair. It creates a "sea of color," she says.
Molly uses latex balloons, but since they won't hold helium for the entire week, she attaches clusters of three balloons to the corners of office dividers. "It's easy and pretty," she says.
Barbara uses balloons as part of her effort to include remote team members. "Every year I send a gift and balloons to remote staff. I ask them to decorate their desk and take a selfie. We post the photos in our online workspace for everyone to see."
Decorating is more than just balloons, it's banners, pennant strings, spirit pennants, and sign packs.
Join these event organizers and place your order for balloons and much more.