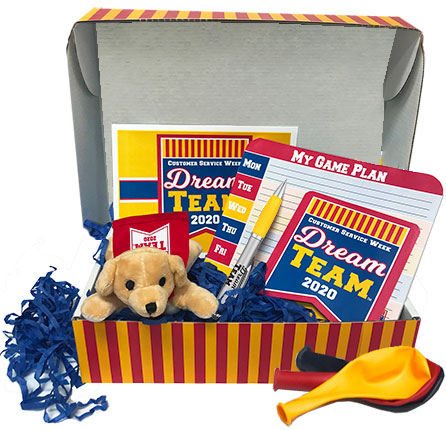 June 30, 2020 —
A remote Customer Service Week celebration takes shape.
The team at a large electric utility in upstate New York (we can't use their name because it's a secret) has been celebrating Customer Service Week for many years.
In March, they sent all 2,000 frontline reps home. But nothing is going to stop this customer-focused company from recognizing and rewarding their service team.
We've been working together to develop a remote Customer Service Week celebration filled with positive and engaging virtual experiences.
It starts on Monday when individual teams will sign on to a Zoom meeting with their supervisors and open their Stress Relief Kits. Next they'll decorate their work spaces. And on Tuesday, they'll share photos and try to guess who works where.
On Wednesday, reps will join a video conference with their CEO. He will share thanks and acknowledge efforts. The idea was inspired by this video from University of Toledo Medical Center. Throughout the week, they will also enjoy daily activities, logic and word puzzles, stretch breaks using the booklet Yoga at Your Desk, and more.
The Stress Relief Kit, activities, and puzzles were developed for this remote celebration, and now we are making everything available to your team. Check out all of the celebration materials at CSWeek.com.