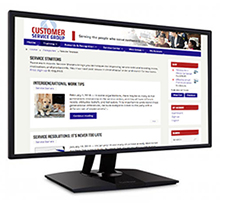 This free e-newsletter brings you the same high-quality information available in all Customer Service Group publications. Twice each month you'll find techniques for improving service skills and boosting moral, motivation, and productivity.
You'll find idea starters for:
Managing your department. Quick, no hassle ideas you can use to improve service quality right away.
Managing your staff. Low-cost, high-return ideas to boost moral, motivation, and productivity.
Special discounts. As a member of the Customer Service Group community, you'll receive special offers and discounts on newsletters, books, training and support materials.