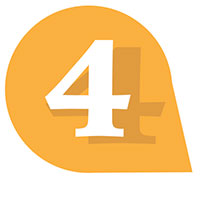 While most customer interactions take place on the phone, email is catching up fast.
Quick, courteous communication via email can boost productivity and enhance customer relationships, while careless and unprofessional email can frustrate and antagonize customers, coworkers, and others.
In the training guide, Effective Email Communication, the authors point to a dozen ways to make email more complete, timely, and effective. The first step is "Read between the lines."
"Just as you listen carefully when speaking to customers, you must give that same level of focus and attention to customer emails," say the authors.
This involves reading carefully to determine the reason for the message as well as "reading between the lines" to determine unspoken or related needs.
The goal, of course, is to make your response as complete as possible so that you do not create a frustrating and time consuming chain of email.
For example: A customer writes to ask if wrap dresses are available in plus sizes. Rather than a simple "yes" a more complete answer alerts the customer to the limited range of colors available in plus sizes and a link to the online size chart.
Learn more about the training guide